A new opinion poll on the attitudes of Europeans towards migration reveals great differences between the ideas of Europeans in the 10 EU member states where the poll was conducted and current national and EU migration policies.
A first question asked respondents about the EU's proposed "pact on migration and asylum" that was presented in September 2020. A majority of Europeans in the countries where the poll was conducted had not heard about this. Only about one in four had heard of it in Austria, Flanders, France, Germany, the Netherlands, Poland, Spain and Sweden, which was however 34% in Italy and 48% in Hungary.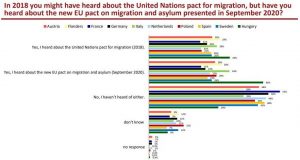 The large-scale polling exercise in these 10 EU member states was executed by German polling firm INSA Consulere, on behalf of the Identity and Democracy Group in the European Parliament.
Another noteworthy result was that a relative majority of Europeans interrogated – apart then from the Dutch – do not feel that their view is taken into account when it comes to immigration to Europe.
Remarkable is that in Italy, female respondents think more often that their view isn't taken into account than male respondents do (52 to 45 %), while in Austria, Flanders, France and Sweden, the younger the respondents are, the more they don't feel that their view is taken into account here.
Also noteworthy is that a majority of those on the political left – which is typically less concerned about uncontrolled migration – in Austria, France, Germany, Italy, Poland, Spain and Hungary do not think that their view is taken into account with regards to immigration to Europe, which even amounts to a 64 percentage in France, which is gearing up for a Presidential election in April.
Furthermore, INSA asked respondents whether they think that Europe can collectively welcome 70 million migrants into the EU over the next years. This refers to a 2015 European Commission estimate that "more than 70 million migrants will be needed over the next two decades". A crushing majority of respondents does not think that was realistic, even if in Spain, most respondents between 18 and 39 years believe that Europe can do this, while a majority of leftwing Spaniards and Italians also do not consider this to be problematic.
Specific EU policies
The pollster also submitted some questions related to specific EU policies. One of these is EU relocation of migrants. In its proposal for a migration pact, the EU Commission proposed "a compulsory solidarity mechanism" but with 'a la carte' options.
When asked "Do you support or don't support the relocation of immigrants from another EU Member State, to your country?", only respondents from Italy and Spain answer in a positive way.
The poll also looked at the extent to which people think "European nations need to protect their national borders more" and the extent to which EU action is desirable here. While there is overwhelming majority support everywhere for better protection of borders, still one fourth to one third of respondents seem to prefer national policy action over EU action here, with France as the EU member state most skeptical of EU action among those polled.
Another question closely related to current policy debates asked whether it was necessary to reduce migration of those without certain skills or qualifications, a policy option that isn't being embraced by EU policy makers. An overwhelming majority in all member states polled support a policy "to reduce immigration to your country of people who are not skilled or qualified in any vocation".
The pollsters furthermore asked people whether it's better to help refugees close to their native country, which relates to the policy to "outsource migration processing", as Denmark (which enjoys an EU opt-out here) and the UK are undertaking, but which the EU refuses to consider. An overwhelming majority thinks it is better.
"The EU should consider to adopt the Danish approach to immigration"
New article, by Swedish MEP @weimers: https://t.co/crHxIToQtx #immigration #denmark #sweden @YlvaJohansson @statsmin

— BrusselsReport.EU (@brussels_report) June 15, 2021
Last but not least, respondents were asked whether "the EU should financially help countries, which are subject to illegal border crossings, reinforce their border protection with fences and walls". Until now, the EU strongly rejects financing border walls, but this is clearly at odds with a majority of respondents in all member states where the opinion poll was conducted.